The third in a series of posts that explores the vital signs of a healthcare system's critical infrastructure, this blog looks at growth at the healthcare edge and lays out the key considerations for ensuring your infrastructure has an agile skeletal system, accommodating changes in healthcare delivery models and the exponential growth of healthcare data.
Growing pains aren't unique to people. Organizations of all types experience them as they attempt to stretch already strained resources to handle increased demands. Healthcare may be one of the most impacted industries with the influx of patient-generated health data and the growth of remote outpatient sites.
According to an IDC report, The Digitization of the World From Edge to Core, healthcare data is projected to experience a compound annual growth rate (CAGR) of 36% through 2025. That's enough data to fill 12 quadrillion miles worth notebook paper laid end to end, circling the earth 485 billion times! These organizations are struggling with how to store, manage, analyze, and secure the immense influx of information from established and ever-emerging technologies (i.e. EHR, digital imaging, IoMT, artificial intelligence, telemedicine, and wearables). As the volume continues to grow exponentially, they need a healthy infrastructure that can scale with it.

While today's healthcare organizations cannot afford to overprovision, they do need ways to add capacity quickly as needed. Like the human body's skeletal system, their infrastructure must provide scalable, flexible, around-the-clock support and the highest level of protection as data and equipment are added.
Keys to building scalability and agility into your infrastructure:
Future proof your strategy with modular products that can support anticipated growth. Modular products give organizations the flexibility to grow as they go, reducing upfront costs and eliminating overprovisioning. Many modular products are available today, including:



Modular UPS. "Bricks" of power and battery modules can be added or removed according to output power requirements. These products not only support flexibility and scalability needed for edge applications, but also improve energy efficiency, serviceability, and availability at the same time.
High density modular cooling. As power demands increase, so do cooling requirements. Cooling solutions for high heat density systems are available in open or closed architecture, and pumped refrigerant-based or water-based technology. By using optional pre-charged flexible piping with threaded quick connect fittings, they allow for expansion without interruption of cooling operations.
Alternative thermal solutions. These solutions fit easily into racks within environments managing heat in small spaces and makes cooling possible in places where traditional equipment simply won't fit. The Vertiv VRC offers the convenience of a plug and play solution with three heat rejection options, energy-efficient features, and scalable capacity, allowing IT managers to quickly add cooling when and where it's needed.
Modular rack PDUs. Choose intelligent systems that easily integrate with your data center infrastructure management system, enabling yourself to stay on top of power usage and adapt to changing business needs as you grow.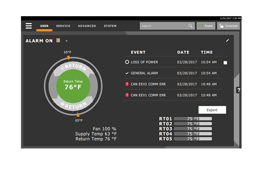 Considering the need for connectivity and visibility with each new asset you deploy, along with how those assets will be organized and protected within the space constraints of network closets, smart cabinets, or micro data centers, will help set the stage for effective monitoring and management of the distributed IT environment, a topic we will explore more deeply in our next post in this series. This not only supports more effective management of your current IT environment, it also gives you the ability to know where devices reside, how power is being used, and where space is available to simplify expansion planning.

To learn more about supporting growth at the healthcare edge, contact DVL to discover how our solutions are helping healthcare organizations achieve continuity for life.