It has never been easier to take control over indoor air quality.
Poor indoor air quality is linked to poor health, low productivity and energy inefficiency. Now companies, private organizations, public health bodies, building tenants and building owners are getting serious about tackling indoor air quality.
The consequences of poor indoor air quality means building owners and managers are under more pressure, and a rising cost means less budget for building care and solutions. Also, "Sick Building Syndrome" drives up rates of sickness and time off work.
HVAC professionals should be aware of 6 major indoor air quality contaminants and components, which include:
Radon gas
Volatile organic compounds (VOCs)
Temperature
Humidity
Carbon dioxide (CO2)
Pressure
Airthings Healthy Building Solution monitors connect wirelessly to a central dashboard, which displays indoor air quality data for multiple spaces and sites. The system tracks radon, TVOCs, CO2, humidity, temperature, pressure and light.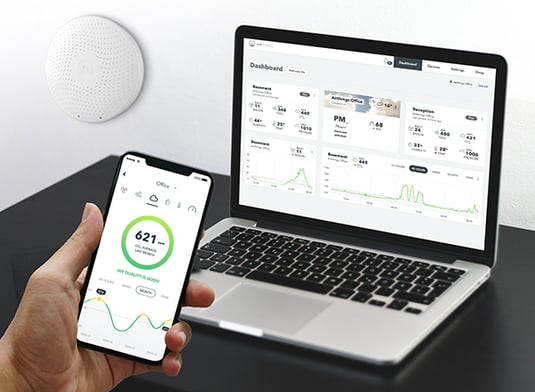 Airthings for Business allows organizations to:
Monitor, measure and analyze their indoor air quality
Improve the health and wellbeing of buildings
Directly impact productivity and energy efficiency by tracking occupancy and adjusting energy usage and production accordingly