Ensuring the Redundancy of your UPS System Design is Bulletproof
We have decades of knowledge in designing and supplying innovative and highly reliable electrical control systems for switchgear, generator systems, and UPS systems. Anywhere that maximum reliability is not just required, but critical to your business, we can lend a hand to keep you mission critical operation on line. It starts with the programmable logic controller (PLC), but also includes generator controllers, synchronizers, protective relays, power quality devices, and everything other item and detail that makes up a truly impenetrable control system. Our expert engineers will guarantee your satisfaction.
The Catcher UPS Load Control Panels (CULCP)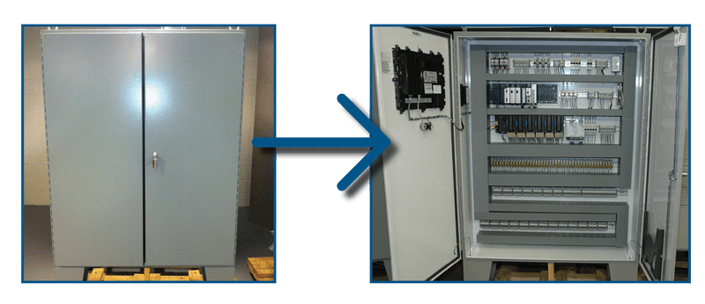 The catcher-based redundant UPS system has become an increasingly popular and cost-effective alternative to the traditional "2N" design. However, the catcher UPS design's Achilles' heel has always been that one can overload the catcher system to failure. This will cause a catastrophic shutdown of an otherwise "bulletproof" data center.
To ensure that this will not be an issue for our customers, we have been specifying, designing, applying, assembling, and commissioning Catcher UPS Load Control Panels (CULCP) for over 10 years at multiple large Data Center sites, both cloud and Enterprise. The benefits of this design are many- low initial, operating, and maintenance costs, while maintaining a highly reliable system, just to name a few.

Features of the DVL Catcher UPS Load Control Panel
Industrial grade PLC, single or redundant
19" diagonal Human Machine Interface (HMI) single or redundant
Load control accomplished by Static Transfer Switch (STS) inhibit, electrically operated load breaker operation or rerouting of main UPS bypass to/from Catcher UPS output
Inhibit for Load Control by load sensing on catcher UPS, voltage sensing on main UPS output boards, algorithm of number of equipment transferred to the Catcher UPS
Compact, one panel, or distributed panel design (mainly used for very large deployments)
Rock solid multiple control power (ANSI 83) transfer scheme
Dynamically written program allows the program to start from any operational condition (doesn't have to only start from Step 1 and proceed)
Integrates to any manufacturer's UPS, STS, PDU Breakers or Switchgear
Optional upstream Generator lockout contacts for a UPS on bypass condition
BMS/SCADA/EPMS read only Modbus output