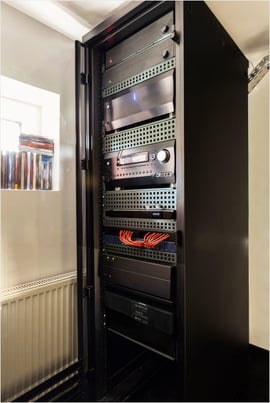 Network Closets have become key assets in any organization's ability to connect to the internet and the cloud. As more and more applications are deployed at the edge of network, and the rapid increase of IoT devices expand, these spaces are truly vital to the functionality and efficiency of an organization. Many of these spaces were originally janitor closets or small electrical rooms that included a punch down block for a phone system, that have since been converted into mission critical pieces of your network.
Today, these IDF (intermediate distribution frame) IT network closets include dedicated cooling, backup power, power distribution, fire protection, racks, routers, patch panels, network switches, servers and storage, fiber and Ethernet, security, PA systems, VoIP phones, cameras, remote monitoring, cell phone boosters, and Wireless Access Points (WAP). Also, since most equipment will need to be replaced every seven years, developing a plan that will keep all your equipment maintained and upgraded on a continual basis is paramount.
Since network closets are the primary place where Edge of Network applications take place and your company connects to the internet, fortifying your network closet to support these Edge of Network applications and Internet of Things (IoT) devices is a challenge that IT managers and Facility Managers confront on a daily basis. At DVL, our Data Center Engineers can assist your company to ensure Network Closets, IT Closets, and IDF rooms are built and maintained to support your technology. Contact your DVL Engineer to perform a review, an evaluation, or to develop a plan to keep your network closet reliable and efficient to support today's ever-changing IT environment.