DID YOU KNOW? All five DVL offices in Philadelphia, Albuquerque, Denver, Harrisburg, and Salt Lake City, have a parts department that you can contact to order emergency parts, portable cooling, or even a customizable spare parts kit.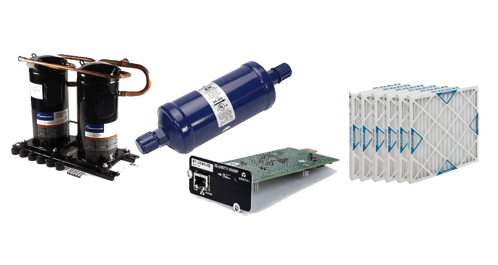 Spare parts for your equipment can be invaluable to have on-hand BEFORE you need them, especially with supply chains as unreliable as they are today. You don't want to be waiting for a piece in the mail that you need to have installed in your data center right away. We recommend a Spare Parts Kit, tailored to your equipment and needs. Don't be left out in the cold (or heat) waiting for much-needed thermal management parts to arrive, AFTER your equipment has called it quits due to a broken piece.
In need of Liebert or Generac parts or portable air conditioners?
Please contact the Parts Department at your local DVL office.
PHILADELPHIA (HQ)
115 Sinclair Road
Bristol, PA 19007
(P) 215.785.5950
ALBUQUERQUE
2705 Pan American Freeway NE,
Ste. E
Albuquerque, NM 87107
(P) 505.343.9910

DENVER
6555 South Kenton Street,
Suite 304
Centennial, CO 80111
(P) 303.771.5000

HARRISBURG
200 South 41st Street, Ste. D
Harrisburg, PA 17111
(P) 717.564.2600

SALT LAKE CITY
4027 South Main Street
Salt Lake City, UT 84107
(P) 385.881.0410