Since we began our DVL Power Hour webinar series a few years ago, we've been able to bring you more than 40 live episodes. We've hosted many discussions about a variety of topics related to critical infrastructure and data centers. Thermal Management. Batteries. E-Rates. Green Data. Pandemics. Service. We've talked about all of this and more, as we welcomed guests from some of our partners, such as representatives from Vertiv, Generac, Critical Labs, Packet Power, and more, as well as some of our customers, and even scientists who have helped explain some of the latest technologies and trends.
If you haven't had the chance to tune in for any of these webinars, or haven't in a while, we hope you'll make your way over to our list of past webinars, as all our previously broadcasted webinar episodes can be accessed on-demand via our website. We invite you to browse topics and titles to find any that may interest you.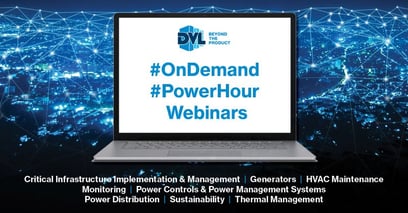 Some of our most popular episodes include:
"How to Choose the Right Cooling System"
"The Importance of Indoor Air Quality"
"Research & Development: Advanced Methods of Cooling Electronics"
"Power Distribution in Critical Facilities"
"Expanding the Monitoring Equation: Alert Management to Risk Mitigation"
"NFPA Standards & Generator UL Listings with Generac"
As far as new webinar episodes go, we are currently on a break for the summer, but check back soon for more information. We will continue to bring you new episodes on a monthly basis. In the meantime, if you'd prefer, all our webinars are ALSO available in a podcast format as well. Episodes have been edited down--you won't be able to see video or slides, but will still get to enjoy some interesting conversations and insights into the critical infrastructure world while on the go. We hope you'll tune in. And if you have any questions or comments, please reach us at Marketing@DVLnet.com.