In recent years, the IT world has been seeing a movement to the Edge across most industries, especially in the realms of Finance, Legal, and Healthcare. Now, the Coronavirus pandemic has added a new variable to the Edge equation for Healthcare, as facilities across the country are constructing additions to their hospitals in support of testing and providing care. A recent DVL webinar addressed this rising concern, with many of the products and solutions discussed (and here below) being applicable to Edge environments in any industry.

Unfortunately, there is no playbook for building these temporary facilities. While they do require the same types of critical infrastructure as facilities we're used to creating, they demand an even greater sense of confidence in their operability. The aspects of building out temporary facilities are not terribly different than what is typically driving the demands of Healthcare IT: Electronic Records Management, Artificial Intelligence, and communications amongst staff and with patients and staff. The critical infrastructure supporting these applications must take into account an additional set of considerations for these temporary facilities:
Footprint Size
Power Requirements
Environmental Conditions
Procurement & Installation
Deployment Timeframe
Infrastructure Monitoring
If a Playbook were to exist on this topic, it would include chapters like:
Defining your specific applications
What do those applications require to operate
How do those requirements translate into critical infrastructure, and
How to build your infrastructure for efficient operations.
This is where DVL can be helpful to your project. Our commitment to going "Beyond the Product" means we don't just sell you equipment and move to the next customer. Rather, we are here to help you connect the dots and present you with solutions to meet your objectives. Each project is its own unique venture as we work with you to define and understand everything from power and cooling requirements driven by your specific IT applications, to what type of rack is best suited for your peace of mind.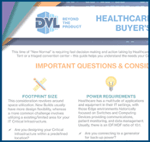 No matter your industry, if you weren't able to join us for the one-hour webinar, we invite you and your colleagues to watch the recording here. Or, you can download our Buyer's Guide for a better understanding of the aforementioned critical infrastructure considerations.
Get the Guide by filling out the form below: