Announcement: Says Electronics Disposal Efficiency metric ensures data centers can responsibly handle electronics and electrical equipment at the end of its useful life
11 March 2013 by DatacenterDynamics FOCUS
The Green Grid has launched a new metric to help data center operators and organizations measure how electronic equipment is managed once it reaches end-of-current-use.
The Electronics Disposal Efficiency (EDE) metric is the first universal metric launched by The Green Grid to help end-users of information and communications technologies (ICT) measure their success in the responsible management of outdated equipment.
EDE is a simple metric that helps organizations calculate and measure their progress in improving equipment disposal processes over time, The Green Grid said.
Discarded Electronics and Electrical Equipment (EEE) entering the waste stream is known globally as e-waste or Waste Electronics and Electrical Equipment (WEEE). Examples of WEEE include computers, mobile devices, home entertainment products, toys, and even goods such as refrigerators and stoves.
The definition and monitoring of WEEE worldwide has evolved over the last decade, which has prompted The Green Grid to identify the need to combine the expertise of other organizations who define standards and requirements for e-waste management with its own members' knowledge and understanding of the e-waste management challenges facing the ICT community.
The Green Grid said the result is the creation of a metric that quantifies how well a corporate consumer of ICT EEE responsibly manages e-waste.
"The Green Grid isn't trying to redefine any domain-specific terminology in the WEEE arena," Kathrin Winkler, EMC representative and Board Member of The Green Grid, said.
>> Read more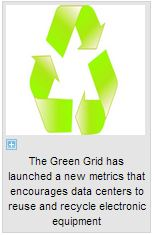 DVL Shines The Spotlight On Data Centers For Using Less Watts