Temple University Case Study:
Find out how Temple University, a 2013 Less Watts Award Winner, expects to save at least $65,000 in energy per year.
---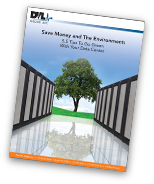 Save Money and The Environment
5.5 Tips To Go Green With Your Data Center
To shrink your data center's energy footprint, you don't necessarily need to spend thousands on an expensive upgrade.
---
What's Your Data Center Strategy?
There are lots of companies out there that will sell you hardware for a data center, but when it comes to strategy, assembly, upgrades and support, you're on your own.