While DVL is known as a data center solutions company, as that is proudly our area of specialty, our expertise extends past this topic when it comes to the universally critical component of power management. And, as such, power distribution needs go far beyond the data center into a host of industries. Elements that make up power distributions solutions can include generators, all the way down to power requirements driven by the application. Data centers often define this within integrated IT Racks, but in other industrial facilities, that could mean just about anything.

Starline Track Busway is a revolutionary answer to the question of just how to distribute power easily throughout your facility(ies). Typically, power distribution solutions have only provided inefficient and potentially hazardous options, especially when you consider it in the context of getting the power to specific end-user application points. However, now, Starline's flexibility and ease of use can help eliminate the need for multiple homeruns, pipe and wire, etc., and simplify configurations by incorporating multiple components. Even changes to the layout of your facility come easy when configured with Busway capabilities.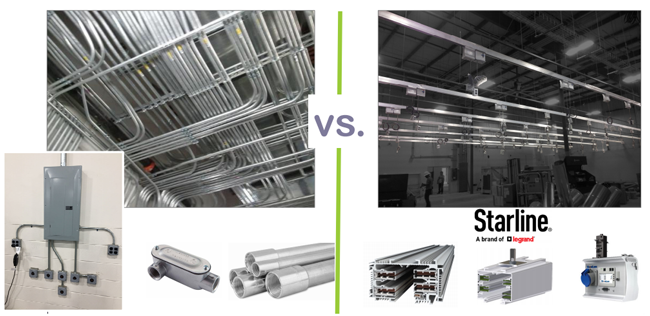 This flexible power distribution system consists of enclosed CU and/or AL electrical conductors. It also has a continuous open-channel bottom access design which allows a virtual infinite number of electrical connection spots to insert plug-in units in order to deliver power at the exact point of use. The amount of pipes and wires you'll need will be drastically reduced as the Busway gets power to exactly where you need it. In addition, cost-effective distribution options are offered that allow you to tailor your facility with literally millions of configurations. Its multiple plug-in units, which can also be tailored, have a "plug n' play" design that enables safer access to the power, with the possibility of countless customizations to satisfy your business's always-changing needs.


As mentioned, there is much need for solutions like the Starline Busway outside of the data center world. For example, it lends extremely well to the automotive industry when it comes to assembly lines and airbag productions. And, even last year, in the midst of the Coronavirus pandemic, when some automotive facilities were being repurposed to answer the call for more ventilators. An automotive production line that uses the Starline Busway for facility recently reported that when they needed to change the configuration of their assembly line with new applications and new equipment, it only took 55 minutes to reconfigure the Busway system to support these new changes. The customer was absolutely astonished with this short turnaround as alternative solutions would have required 3 weeks of work when you add up the actual labor and additional paperwork and permissions from different departments that an alternate solution would demand.

It becomes clear that the Busway system is a game-changer for dynamic environments where floorplans are always changing and turning over. Therefore, a retail setting would greatly benefit from this solution as stores and showrooms, both big and small, are routinely reworking their floorplans as they usher in new seasons and merchandise. In addition to being able to change the location of the fixtures, displays, and cash registers, the Busway can also allow for lighting options to become more versatile. Lighting fixtures can be hung directly from the busway housing without requiring additional grid support. Similarly, the system is hard wired to support track lighting, security cameras, speakers, occupancy sensors, and exit and other store signage.

When it comes to other industries, the busway is great for powering up fleets of forklifts in distribution centers, it can support clean-rooms and most research and development applications in the Bio-Pharm setting, while in schools the busway is ideal for computer rooms, welding shops, and college laboratories, and lastly, in restaurants it can offer flexibility for point-of-sales, kitchen, and dining room configurations. In addition, the busway is really starting to prove itself a great fit for up-and-coming ventures such as E-Car Charging in parking garages and vertical farming.

For more information about the benefits and options of the Starline Busway, check out our recent webinar in which we discuss the Busway with experts from Starline.