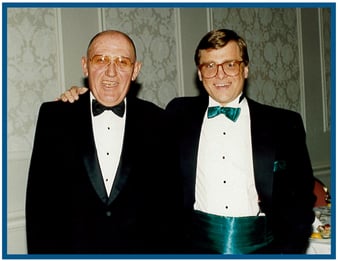 In 1985, Delaware Valley Liebert, Inc. (now DVL Group, Inc.) was founded by Kyle Will (left) and Michael Murphy (right). DVL's team of 10 employees served data center customers in the Eastern Pennsylvania, South Jersey, and Delaware markets, by providing industry leading Liebert air conditioning and power equipment. DVL established an HVAC Parts and Service department to support their clients' requirements. At that time, the data center market was growing at a phenomenal pace and clients continued to grow and require more services.
In the 1990s, DVL's Strategic Account Services department was created to further assist clients' need for reliable power systems. The concept of an Uninterruptible Power System (UPS, Switchgear and Generator) was implemented by many. DVL was successful in "exceeding mission critical expectations" by keeping clients' data centers running.
In 2003, DVL acquired Total Support Systems (TSS) that served the Central and Northeast Pennsylvania territory. DVL expanded what they had already developed in the Delaware and Lehigh Valley markets to the Central and Northeast Pennsylvania territories.

In July 2006, DVL Group established an ESOP, and became a partial employee owned company. Then, in January 2012, the company became 100% employee owned.
In the 2010s, DVL's expertise in critical power systems began to expand beyond data center applications. Large aviation control systems and power generation required expertise that only DVL could offer. DVL's team of electrical system experts applied the same mission critical principals to the critical back up of airport and other mission critical control systems.
Today, DVL continues to offer a wide range of solutions. While the core market served has changed, the need and requirement for local edge computing is greater than ever.